Text to this article.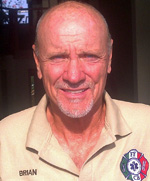 Brian Singleton - Regional Representative
Brian retired from Vancouver Fire & Rescue as Assistant Chief after 30 years of service. He continued teaching at the BC Fire Academy and with Global Emergency Managment, a US consulting group based in Idaho who provides firefighter training across the State of Idaho.
Brian moved full time to Nuevo Vallarta, Mexico in 2004 and began efforts to assist Puerto Vallarta and Bahia de Banderas Civil Proteccion y Bomeros. He jioned forces with Firefighters Crossing Borders in 2010 and became a Regional Representative. He works closely with local community partners and manages program development in Nayarit and Jalisco. He is co-director of the International Rotary Fire World Community Service Project and director of the Punta Mita Foundation's Fire EMS project. He is currently Vic President and co-founder of WebFire Training LLC, a California based e-learning company which provides OSHA safety courses to hotel workers world wide.
Jordan Pollack - Regional Representative​
Jordan became involved with Firefighters Crossing Borders in 2008 coordinating a 4 day truck company operations program in the capital city of Culiacan, Sinaloa. Firefighters and officers from Culiacan and Mazatlan attended that year, the first of what has now become an annual fire-rescue symposium bringing participants from every department in the state. Through his work with Firefighters Crossing Borders Jordan initiated a major development program in 2010 for the towns of Sayulita and San Pancho, Nayarit. Born in the name of a colleague Zack Chambers who lost his life while swimming in the waters off Saylita, Jordan along with Zacks wife Nya created the Zachary Chambers Foundation. This non-profit group focused on development and support of emergency services for that remote area. During the first major lifeguard mission in 2010 Brian and Jordan met and began working together. Within a short time they created Region 2 of Firefighters Crossing Borders that encompasses the states of Sinaloa, Nayarit, Jalisco, and Colima. Jordan continues to coordinate the annual fire-rescue training symposium in Sinaloa. He serves as fire chief for the Breitenbush Fire Department in central Oregon and owns a fire training-consulting business in the Pacific Northwest.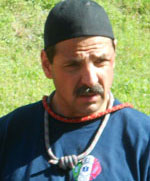 Steve Ness
Steve works as a Captain on a busy ladder truck company for Snohomish County Fire District 1. His off duty days are filled with managing his industrial life safety business with numerous rescue technicians and others working at refineries and other large industrial operations around the USA. For additional entertainment Steve fills a seat on the Board of Commissioners for Whatcom County Fire District 4. Working with Firefighters Crossing Borders brings Steve some welcome time away from his busy administrative world, coming south instructing comrades in Mexico, his other home.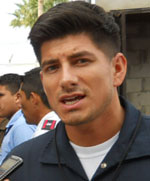 Moi Castellon
A Firefighter/EMT with Snohomish County Fire District 1, Moi works on Ladder 20. A firefighter since 2004, Moi is a certified aerial driver/operator and instructor in vehicle extrication. Born in the State of Jalisco, Mr. Castellon is fluent in Spanish, and enjoys being part of Firefighters Crossing Borders where he has been teaching and helping out his fellow firefighter brothers in Mexico since 2011.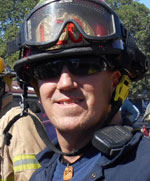 Dave Stevens
Dave started in the fire service in 1997 as a firefighter with Vancouver Fire Department in Southwest Washington State. He now works for Snohomish County Fire District 1 as a driver/operator on Ladder 20. He is a member of the Snohomish County Technical Rescue Team, an instructor in Vehicle Extrication, and works as a Captain when needed. In his time away from the fire department Dave played Rugby for 15 years and now enjoys the occasional game with friends.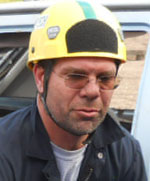 Bronco Edwards
Working on Snohomish County Fire District 1 Ladder 20 as a Firefighter/EMT with many years of experience, Bronco brings a wealth of knowledge to the team. His background as a rescue specialist includes vehicle extrication, low and high angle rope rescue, and much more.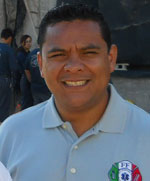 Edgar Ramirez Tellez
Born and raised in Mexico City, Edgar has been in the fire service since 1997 working in California and Wisconsin. Mr. Ramirez works as a paramedic/firefighter for the City of Fond Du Loc, Wisconsin and is a member of the department's training staff. He is certified in swift water/rope/confined space and ice rescue as well as a hazardous materials technician.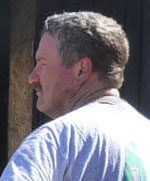 Paul Spencer
A master emergency vehicle technician, Paul began his career in 1983 working on a heavy rescue company outside Washington D.C. He has held positions as rescue and station captain during his 14 year career with San Juan County in Washington State. Paul is well known in the Pacific Northwest for teaching firefighters efficient water flow tactics with high gallon-low manpower equipment, achieving the most from their pumping apparatus. Mr. Spencer is the primary mechanical consult for vehicles, SCBA, and nozzles for Culiacan Fire Department.
Joaquin Hubbard
A firefighter/EMT with Seattle Fire Department in Washington State, Joaquin works on a busy urban ladder company (Ladder 25) and instructs firefighting regularly in the region. Joaquin has been in the fire service for many years starting on San Juan Island where he still resides, he brings with him much knowledge of aerial and truck company operations.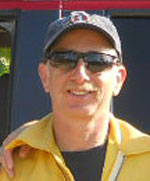 Andy Speier
Andy is the special operations battalion chief for the McLane-Black Lake Fire Department in Olympia, WA, and a member of their special operations rescue team (SORT). He has worked for several departments over the past 32 years and recently retired as a captain with Fire District 1 of Snohomish County, WA. Prior to working in western Washington, Speier worked for the New York City Fire Department (FDNY), assigned to Ladder 4 and Engine 54. He is a voting member of NFPA 1670, a lead instructor for Peak Rescue Institute, and a partner in Spec Rescue International.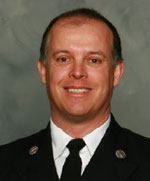 Darin Murphy
Darin is a Lieutenant for the Tacoma Fire Department and has participated in planning and delivering a variety of fire service related training, including Recruit and Probationary firefighter training, and Technical Rescue training in Rope, Confined Space and Trench Rescue. Darin teaches Fire and Emergency Service Instructor classes for the Washington State Fire Marshalls Office. He has family living in Puerto Vallarta and plans to spend more time in Mexico.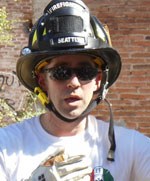 Tim Frank
Tim is a 15 year veteran the Seattle Fire Department. He is a company officer on Ladder 10, a downtown Ladder Truck stationed in the Capitol Hill neighborhood of Seattle. He has been a company officer for 5 years, two of which were spent assigned to the Training Division where he trained recruit firefighters. He is also a member of the Washington State FEMA Urban Search and Rescue Task Force (WATF-1) where he serves as a Search Manager.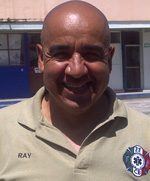 Ray Garcia
Ray is a Captain with the Phoenix Fire Department with over 26 years of service and FFCB's liaison with the Phoenix fire department. He's a member of the Phoenix Fire Department AZTF-1 Response Team. He is Paramedic and Pediatric Advanced Life Support certified as well as an American Heart Association instructor. Ray is fluent in Spanish and an EMT instructor at Estrella Community College in Avondale Arizona.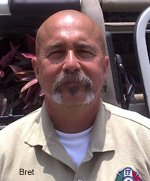 Bret Russell
Bret has 35 years of fire service and law enforcement experience with the Orange County CA Fire Authority. Bret has held the positions of Firefighter, Paramedic, Fire Captain, Assistant Fire Training Officer, Helicopter Crew Chief, State Safety Officer and Fire/Arson Investigator. In addition, Bret was also a member of the California Urban Search and Rescue Task Force 5 FEMA, U.S. Department of Homeland Security, for 23 years, assigned as a Safety Officer / Medical Specialist and Rescue Specialist. Bret is currently the Director of the Emergency Management Program for the Capistrano-Laguna School District, South Coast ROP.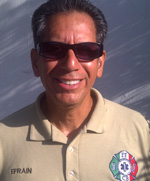 Efrain Guzman
Efrain spent 13 years in the Marine Corps and 22 years with the Phoenix Fire Dept. He is an EMT, Technical Rescue and Hazmat Technician and a member of the Urban Search and Rescue Task Force 1. Efrain enjoys teaching firefighters in Mexico and is an IAFF HazMat first responder instructor and a Texas A&M WMD train the trainer instructor. He's bilingual and a Spanish instructor for the Phoenix Fire Department.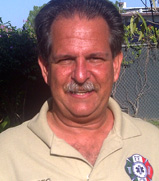 Greg Ryan
Greg has 48 years of fire service experience and retired as fire Fire Chief for the City of Rio Rancho, New Mexico in January 2002. He returned to Southern California, where his current position is Deputy Fire Marshal for the Carlsbad fire department. Greg is certified by CA State Fire Marshal's Office and IFSAC as a Fire Investigator, Firefighter II, Fire Officer, Hazardous Materials Specialist and Chief Officer. Greg is also certified by the CA State Fire Marshal and the International Code Council as a Fire Inspector II/III, Fire Protection Specialist and Plan Reviewer. He is also certified as an Executive Fire Officer through the National Fire Academy and holds a Professional Certificate in Emergency Management through the Federal Emergency Management Agency.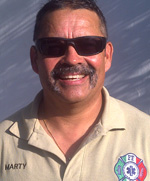 Marty Munoz
Marty has 28 years of service with the Phoenix Fire Department and is a Captain/Paramedic with Special Operations. He was deployed to North Ridge CA in1995, Atlanta Ga. in1996 for the Olympics, New York, City N.Y. in 2001, and Katrina Louisiana in 2006. Marty enjoys working on his Spanish while instructing bomberos.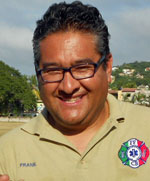 Frank Salomon
Frank is a Deputy Chief with the Phoenix Fire Department with many years of service. He has assisted with Hazmat and Firefighting Ops courses. Frank speaks Spanish.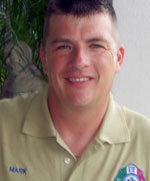 Mark Nielsen
Mark is a Captain with the Surrey Fire Department in British Columbia and member ERT team. He has assisted with Rope Rescue courses in the Bahia de Banderas area.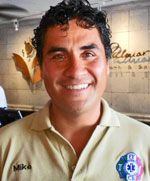 Mike Zepada
Mike is an active member of the Phoenix Fire Department Special Operations and Phoenix's FIMA team. He has assisted with High Rise and Rope Rescue courses in theahia – Vallarta area. He speaks fluent Spanish.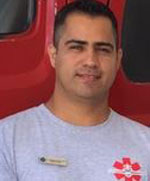 Dr. Luis Lóoez
Dr. Luis is the director of Puerto Vallarta based AirEvac International. They operate a fleet of private ambulances and medical clinks in the Vallarta area. Dr. Luis and his team of US training Paramedics support EMS training to the areas firefighters. Luis speaks English and Spanish.
Fred Demas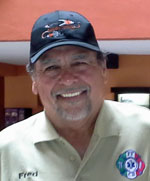 Fred is a retired Truck Captain from Phoenix Fire with 38 years of service. He is currently the Holmatro Rescue Tools dealer for AZ and owner of Extrication Concepts in Phoenix. Fred speaks fluent Spanish.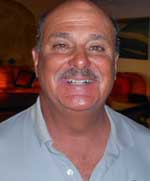 Jimmy Canale
Jimmy is a retired San Diego lifeguard and director of Surf Lifesaving de Sur who has training hundreds of lifeguards throughout Mexico. Jimmy has assisted many times with lifeguard training in the Bahia de Banderas area. Jimmy was named "Citizen of the Year" in 2011 by the San Diego Fire Rescue Dept. for his ongoing dedication to the training and implementation of Lifeguards and Lifeguard Services in Baja and mainland Mexico.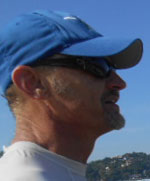 Laine Pepper
Laine is a retired San Diego Lifeguard and director of Surf Lifesaving de Sur who has training many lifeguard in Mexico. He is trained as an Emergency Medical Technician (EMT), a Cliff Rescue Technician, and a Swift Water Rescue Technician. In addition, his training includes SCUBA Underwater Search and Rescue and Coast Guard Helicopter Rescue Operations.
Laine has delivered many lifeguard training courses in Bahia de Banderas.
Adam Finer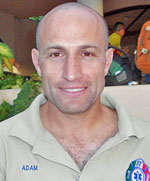 Adam lives in Bucerias, Nayarit and is the owner of Surf Mexico. He is a certified International Lifeguard instructor and the auxiliary lifeguard coordinator for Bucerias. Adam has assist with many lifeguard courses in the area.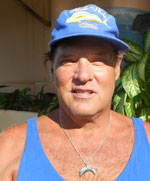 Paul Johnson
Paul retired from the San Diego Fire Department after many years of service. He worked on the fire company and as a lifeguard. Paul spends time in Puerto Vallarta each year and has assisted with a number of training programs in the area
Welcome to Firefighters Crossing Borders (FFCB) this is our official website where you can get all the latest information that is happening with our organization.
In addition to this site we also use Facebook to share and grow our vision. We would encourage you to like our Facebook page and Follow our posts, because, as we add new information to this site we will announce it on our Facebook page.

Welcome to http://www.firefighterscrossingborders.org/. This website is owned and operated by Firefighters Crossing Borders.org. By visiting our website and accessing the information, resources, services, products, and tools we provide, you understand and agree to accept and adhere to the following terms and conditions as stated in this policy (hereafter referred to as 'User Agreement'), along with the terms and conditions as stated in our Privacy Policy (please refer to the Privacy Policy section below for more information).

This agreement is in effect as of Jan 04, 2014.

We reserve the right to change this User Agreement from time to time without notice. You acknowledge and agree that it is your responsibility to review this User Agreement periodically to familiarize yourself with any modifications. Your continued use of this site after such modifications will constitute acknowledgment and agreement of the modified terms and conditions.

Responsible Use and Conduct

By visiting our website and accessing the information, resources, services, products, and tools we provide for you, either directly or indirectly (hereafter referred to as 'Resources'), you agree to use these Resources only for the purposes intended as permitted by (a) the terms of this User Agreement, and (b) applicable laws, regulations and generally accepted online practices or guidelines.

Wherein, you understand that:


In order to access our Resources, you may be required to provide certain information about yourself (such as identification, contact details, etc.) as part of the registration process, or as part of your ability to use the Resources. You agree that any information you provide will always be accurate, correct, and up to date.
You are responsible for maintaining the confidentiality of any login information associated with any account you use to access our Resources. Accordingly, you are responsible for all activities that occur under your account/s.
Accessing (or attempting to access) any of our Resources by any means other than through the means we provide, is strictly prohibited. You specifically agree not to access (or attempt to access) any of our Resources through any automated, unethical or unconventional means.
Engaging in any activity that disrupts or interferes with our Resources, including the servers and/or networks to which our Resources are located or connected, is strictly prohibited.
Attempting to copy, duplicate, reproduce, sell, trade, or resell our Resources is strictly prohibited.
You are solely responsible any consequences, losses, or damages that we may directly or indirectly incur or suffer due to any unauthorized activities conducted by you, as explained above, and may incur criminal or civil liability.
We may provide various open communication tools on our website, such as blog comments, blog posts, public chat, forums, message boards, newsgroups, product ratings and reviews, various social media services, etc. You understand that generally we do not pre-screen or monitor the content posted by users of these various communication tools, which means that if you choose to use these tools to submit any type of content to our website, then it is your personal responsibility to use these tools in a responsible and ethical manner. By posting information or otherwise using any open communication tools as mentioned, you agree that you will not upload, post, share, or otherwise distribute any content that:
Is illegal, threatening, defamatory, abusive, harassing, degrading, intimidating, fraudulent, deceptive, invasive, racist, or contains any type of suggestive, inappropriate, or explicit language;

Infringes on any trademark, patent, trade secret, copyright, or other proprietary right of any party;
Contains any type of unauthorized or unsolicited advertising;
Impersonates any person or entity, including any http://www.firefighterscrossingborders.org/ employees or representatives.
We have the right at our sole discretion to remove any content that, we feel in our judgment does not comply with this User Agreement, along with any content that we feel is otherwise offensive, harmful, objectionable, inaccurate, or violates any 3rd party copyrights or trademarks. We are not responsible for any delay or failure in removing such content. If you post content that we choose to remove, you hereby consent to such removal, and consent to waive any claim against us.

h. We do not assume any liability for any content posted by you or any other 3rd party users of our website. However, any content posted by you using any open communication tools on our website, provided that it doesn't violate or infringe on any 3rd party copyrights or trademarks, becomes the property of Firefighters Crossing Borders.org, and as such, gives us a perpetual, irrevocable, worldwide, royalty-free, exclusive license to reproduce, modify, adapt, translate, publish, publicly display and/or distribute as we see fit. This only refers and applies to content posted via open communication tools as described, and does not refer to information that is provided as part of the registration process, necessary in order to use our Resources. All information provided as part of our registration process is covered by our privacy policy.

i. You agree to indemnify and hold harmless Firefighters Crossing Borders.org and its parent company and affiliates, and their directors, officers, managers, employees, donors, agents, and licensors, from and against all losses, expenses, damages and costs, including reasonable attorneys' fees, resulting from any violation of this User Agreement or the failure to fulfill any obligations relating to your account incurred by you or any other person using your account. We reserve the right to take over the exclusive defense of any claim for which we are entitled to indemnification under this User Agreement. In such event, you shall provide us with such cooperation as is reasonably requested by us.

Privacy

Your privacy is very important to us, which is why we've created a separate Privacy Policy in order to explain in detail how we collect, manage, process, secure, and store your private information. Our privacy policy is included under the scope of this User Agreement. To read our privacy policy in its entirety, click here.

Limitation of Warranties

By using our website, you understand and agree that all Resources we provide are "as is" and "as available". This means that we do not represent or warrant to you that:

i) the use of our Resources will meet your needs or requirements.
ii) the use of our Resources will be uninterrupted, timely, secure or free from errors.
iii) the information obtained by using our Resources will be accurate or reliable, and
iv) any defects in the operation or functionality of any Resources we provide will be repaired or corrected.


Furthermore, you understand and agree that:

v) any content downloaded or otherwise obtained through the use of our Resources is done at your own discretion and risk, and that you are solely responsible for any damage to your computer or other devices for any loss of data that may result from the download of such content.
vi) no information or advice, whether expressed, implied, oral or written, obtained by you from Firefighters Crossing Borders.org or through any Resources we provide shall create any warranty, guarantee, or conditions of any kind, except for those expressly outlined in this User Agreement.


Limitation of Liability

In conjunction with the Limitation of Warranties as explained above, you expressly understand and agree that any claim against us shall be limited to the amount you paid, if any, for use of products and/or services. Firefighters Crossing Borders.org will not be liable for any direct, indirect, incidental, consequential or exemplary loss or damages which may be incurred by you as a result of using our Resources, or as a result of any changes, data loss or corruption, cancellation, loss of access, or downtime to the full extent that applicable limitation of liability laws apply.

Copyrights/Trademarks

All content and materials available on http://www.firefighterscrossingborders.org/, including but not limited to text, graphics, website name, code, images and logos are the intellectual property of Firefighters Crossing Borders.org, and are protected by applicable copyright and trademark law. Any inappropriate use, including but not limited to the reproduction, distribution, display or transmission of any content on this site is strictly prohibited, unless specifically authorized by Firefighters Crossing Borders.org.

Termination of Use

You agree that we may, at our sole discretion, suspend or terminate your access to all or part of our website and Resources with or without notice and for any reason, including, without limitation, breach of this User Agreement. Any suspected illegal, fraudulent or abusive activity may be grounds for terminating your relationship and may be referred to appropriate law enforcement authorities. Upon suspension or termination, your right to use the Resources we provide will immediately cease, and we reserve the right to remove or delete any information that you may have on file with us, including any account or login information.

Governing Law

This website is controlled by Firefighters Crossing Borders.org from our offices located in the state of WA, USA. It can be accessed by most countries around the world. As each country has laws that may differ from those of WA, by accessing our website, you agree that the statutes and laws of WA, without regard to the conflict of laws and the United Nations Convention on the International Sales of Goods, will apply to all matters relating to the use of this website and the purchase of any products or services through this site.

Furthermore, any action to enforce this User Agreement shall be brought in the federal or state courts located in USA, WA You hereby agree to personal jurisdiction by such courts, and waive any jurisdictional, venue, or inconvenient forum objections to such courts.

Guarantee

UNLESS OTHERWISE EXPRESSED, Firefighters Crossing Borders.org EXPRESSLY DISCLAIMS ALL WARRANTIES AND CONDITIONS OF ANY KIND, WHETHER EXPRESS OR IMPLIED, INCLUDING, BUT NOT LIMITED TO THE IMPLIED WARRANTIES AND CONDITIONS OF MERCHANTABILITY, FITNESS FOR A PARTICULAR PURPOSE AND NON-INFRINGEMENT.

Contact Information

If you have any questions or comments about these our Terms of Service as outlined above, you can contact us at:

Firefighters Crossing Borders.org
PO Box 2625
Gig Harbor, WA 98335
USA


This Privacy Policy governs the manner in which Firefighters Crossing Borders collects, uses, maintains and discloses information collected from users (each, a "User") of the http://www.firefighterscrossingborders.org website ("Site"). This privacy policy applies to the Site and all products and services offered by Firefighters Crossing Borders.

Personal identification information

We may collect personal identification information from Users in a variety of ways, including, but not limited to, when Users visit our site, register on the site, place an order, subscribe to the newsletter, respond to a survey, fill out a form, and in connection with other activities, services, features or resources we make available on our Site. Users may be asked for, as appropriate, name, email address, mailing address, phone number, credit card information. Users may, however, visit our Site anonymously. We will collect personal identification information from Users only if they voluntarily submit such information to us. Users can always refuse to supply personally identification information, except that it may prevent them from engaging in certain Site related activities.

Non-personal identification information

We may collect non-personal identification information about Users whenever they interact with our Site. Non-personal identification information may include the browser name, the type of computer and technical information about Users means of connection to our Site, such as the operating system and the Internet service providers utilized and other similar information.

Web browser cookies

Our Site may use "cookies" to enhance User experience. User's web browser places cookies on their hard drive for record-keeping purposes and sometimes to track information about them. User may choose to set their web browser to refuse cookies, or to alert you when cookies are being sent. If they do so, note that some parts of the Site may not function properly.

How we use collected information

Firefighters Crossing Borders may collect and use Users personal information for the following purposes:
- To improve customer service
Information you provide helps us respond to your customer service requests and support needs more efficiently.
- To personalize user experience
We may use information in the aggregate to understand how our Users as a group use the services and resources provided on our Site.
- To improve our Site
We may use feedback you provide to improve our products and services.
- To process payments
We may use the information Users provide about themselves when placing an order only to provide service to that order. We do not share this information with outside parties except to the extent necessary to provide the service.
- To run a promotion, contest, survey or other Site feature
To send Users information they agreed to receive about topics we think will be of interest to them.
- To send periodic emails
We may use the email address to send User information and updates pertaining to their order. It may also be used to respond to their inquiries, questions, and/or other requests. If User decides to opt-in to our mailing list, they will receive emails that may include company news, updates, related product or service information, etc. If at any time the User would like to unsubscribe from receiving future emails, we include detailed unsubscribe instructions at the bottom of each email.
How we protect your information

We adopt appropriate data collection, storage and processing practices and security measures to protect against unauthorized access, alteration, disclosure or destruction of your personal information, username, password, transaction information and data stored on our Site.

Sensitive and private data exchange between the Site and its Users happens over a SSL secured communication channel and is encrypted and protected with digital signatures.

Sharing your personal information

We do not sell, trade, or rent Users personal identification information to others. We may share generic aggregated demographic information not linked to any personal identification information regarding visitors and users with our business partners, trusted affiliates and advertisers for the purposes outlined above.We may use third party service providers to help us operate our business and the Site or administer activities on our behalf, such as sending out newsletters or surveys. We may share your information with these third parties for those limited purposes provided that you have given us your permission.

Third party websites

Users may find advertising or other content on our Site that link to the sites and services of our partners, suppliers, advertisers, sponsors, licensors and other third parties. We do not control the content or links that appear on these sites and are not responsible for the practices employed by websites linked to or from our Site. In addition, these sites or services, including their content and links, may be constantly changing. These sites and services may have their own privacy policies and customer service policies. Browsing and interaction on any other website, including websites which have a link to our Site, is subject to that website's own terms and policies.

Advertising

Ads appearing on our site may be delivered to Users by advertising partners, who may set cookies. These cookies allow the ad server to recognize your computer each time they send you an online advertisement to compile non personal identification information about you or others who use your computer. This information allows ad networks to, among other things, deliver targeted advertisements that they believe will be of most interest to you. This privacy policy does not cover the use of cookies by any advertisers.

Compliance with children's online privacy protection act

Protecting the privacy of the very young is especially important. For that reason, we never collect or maintain information at our Site from those we actually know are under 13, and no part of our website is structured to attract anyone under 13.

Changes to this privacy policy

Firefighters Crossing Borders has the discretion to update this privacy policy at any time. When we do, we will post a notification on the main page of our Site, revise the updated date at the bottom of this page and send you an email. We encourage Users to frequently check this page for any changes to stay informed about how we are helping to protect the personal information we collect. You acknowledge and agree that it is your responsibility to review this privacy policy periodically and become aware of modifications.

Your acceptance of these terms

By using this Site, you signify your acceptance of this policy and terms of service. If you do not agree to this policy, please do not use our Site. Your continued use of the Site following the posting of changes to this policy will be deemed your acceptance of those changes.

Contacting us

If you have any questions about this Privacy Policy, the practices of this site, or your dealings with this site, please contact us at:
Firefighters Crossing Borders
http://www.firefighterscrossingborders.org
PO Box 2625 Gig Harbor, Washington 98332
This email address is being protected from spambots. You need JavaScript enabled to view it.

This document was last updated on January 04, 2014