More Lifeguards for Bahia!

On March 12th and 13th, Firefighters Crossing Borders and Pro Sayulita provided training for 28 new lifeguards on the north beach of Sayulita. These new volunteer lifeguards will work with paid guards to protect Sayulita and other beaches of the Bahia de Banderas. Participants included local surfers interested in being part of the Bahia de Banderas auxiliary lifeguard program. All participants developed good skills in prevention, water rescue techniques, and CPR.

Instructors included Adam Finer, Jonny Selfert, Janilyn Yanover, and Darcie Culbek. Bahia de Banderas Bomberos paid lifeguards and paramedics assisted over the two day program.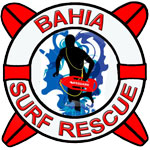 At the conclusion of the course participants formed Bahia Surf Rescue and plan to continue working together to further develop their skills.
Thanks to all who helped make this event a wonderful success!
Enjoy the slide show!